Dental Emergencies and After Office Hours
Dental emergencies are never convenient or timely. At Pediatric Dentistry of Portland, we are committed to our patients' dental health no matter what time.

If you are a current patient and have a dental emergency after regular office hours, please call us and follow the prompts on our voicemail system.


When a Fall Hurts your Child's Mouth

There are plenty of opportunities for kids to fall, whether out biking, rollerblading, or just playing at the park. While we cannot keep our kids in a bubble, like we wish we could do, we can minimize their risks of harming their lips, mouth, and teeth by having them wear proper footwear that is secure (no flip flops while playing); wearing a helmet to protect their fall; and teaching them the proper way to break a fall (hands out to protect the face). If your child ends up with an injury to the mouth, do not panic - here are some simple ways to handle it.


| | |
| --- | --- |
| • | Control the bleeding first. You cannot tell what is going on if blood is covering all areas of his face and mouth. Excessive blood usually makes the injury look worse than it is, so grab some clean gauze and apply light pressure to the area to stop the bleeding. |
| • | Rinse the mouth. Once the bleeding is under control, lightly rinse his mouth with warm water and have him spit it out. Then you can see what is going on in there. |
| • | Apply ice to the outside of the area. If there is swelling or pain, have your child hold an ice pack covered in a thin cloth over the area to take the swelling down and decrease his pain. |

Once you and your child are calm and collected, call us to discuss the injury. Remember if there are any pieces of chipped or knocked out permanent teeth, gather them by the crown of the tooth (not the roots) and keep them moist until your child can be seen. If you are unable to be seen by us immediately (in the case of a knocked out permanent tooth for example) and there is trauma to the face, go to the Emergency Room and follow up your visit at our office for any remaining dental treatments. We're here for you - visit our website for emergency information or give us a call!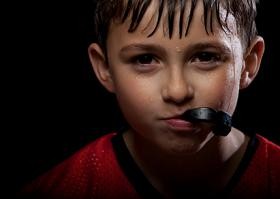 Action Plan for Your Child's Activities

Your child's outdoor activities may range from plunging into a cool lake to playing softball at the local park to riding horses, motorbikes, and boogie boards.

But what about the beating your body takes when you're having so much fun? Often, it's the face that gets it when there's an accident. So, what do you do?

Well, of course we encourage you to use a mouth guard during recreational activities to avoid these injuries altogether. But here are a few guidelines for dealing with facial injuries should they occur:

| | |
| --- | --- |
| • | Broken jaw: Control the swelling by using a cold compress and either contact us or the hospital emergency room. |
| • | Knocked out tooth: Gently rinse the root in water being careful to keep all tissue fragments intact and then reinsert it into its socket, if possible or put it in a cup of milk. Contact us immediately. |
| • | Broken tooth: Rinse your mouth with warm water and apply a cold compress to reduce swelling. Contact us immediately. |
| • | Bitten lip or tongue: Clean the area and apply a cold compress if there is swelling. Go to the hospital emergency room if you can't stop the bleeding. |
| • | Objects caught between your teeth: Using dental floss rather than a sharp instrument, gently try to remove the object. If you can't, contact us. |

If you have an emergency, please do not hesitate to call us. We are more than willing to make time in our schedule to accommodate an emergency or to provide advice on how to proceed.